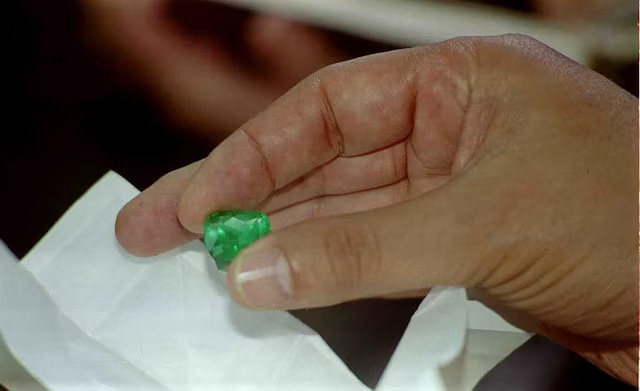 Colombia is the second largest exporter of emeralds in the world.
Legend has it that an indigenous Muisca named Fura, upon learning of the loss of Tena, her beloved, cried so much that her tears penetrated the earth and the forests until they became emeralds. The story is then complemented by the legend of El Dorado, which not only attracted treasure hunters and Spaniards at the time, but also adds to what today is a luxury industry and vanity that is paid with millions of dollars.
This was recently revealed by DANE, stating that international demand has not only allowed a 35% increase in Colombian emerald exports to be registered, but also means an amount that is three times higher than that recorded during 2020, the year in which sales were affected by the pandemic.
In economic terms, this represents sales of more than 129 million dollars, a figure well above the 42 million reported in 2020 that represented, according to Guillermo Galvis, president of the Colombian Association of Exporters of Esmeraldas (Acodes), a contraction in exports. At that time, the most negative behavior in history in the industry was recorded, with a fall of more than half in sales of the raw mineral and a 69% reduction in exports of the carved product.
Legality and competitiveness
Its deep green, its resistance, pure tones and brightness, perhaps make the Colombian emerald one of the most desirable gems on the international market. These characteristics, which are given by the composition of the soils from which they are extracted, allow not only incandescent green gems to be found in the country, but also blue-colored emeralds. Such variety and quality has not only allowed Colombia to position itself as the second exporter of emeralds behind Zambia, but also to be one of the most competitive countries in an industry that today offers more guarantees. Oscar Baquero, president of Fedesmeraldas, assured that the sector has become attractive for foreign investment, which has meant an improvement, taking into account that before this industry was associated and perceived with traces of illegality.
This is partly due to the efforts of the national government to formalize more than 13,500 miners, who to date have accessed the benefits and banking, after having an authorized mechanism to develop the activity within the framework of the law and comply with the requirements in technical and environmental matters.
This context not only represents greater security but also gives green lights to an industry that is extracting more and more precious stones. Therefore, although there are no consolidated records of emerald production in 2021, the Ministry of Mines and Energy (MME) estimates that the extraction was in the order of 1.7 million carats, a figure higher than in 2020, which was 1.5 million carats.
"The growing demand for luxury products at a global level that has come hand in hand with the reopening of economies (such as the issue of jewelry), has allowed the emerald sector to go through a good time in the last year, which is being driven by high levels of consumption, where auctions of these stones have been seen again and the appetite for them has resurfaced in Asian countries.
This good streak is corroborated by the Dane's records in which 10 countries, between Canada, the United States and some in Asia, registered the acquisition of raw national emeralds in 2021, with revenues of US $20 million, while 26 nations bought 26 worked gems that left more than 109 million dollars.