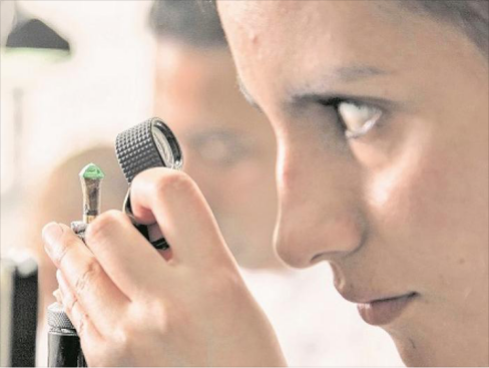 In the first six months of the year, the value of the gemstone grew by 4% but exports fell by 6%.
Entrepreneurs of the mining and emerald industry of the world will seek to boost exports of the Colombian 'green gem' in the international market, as they assured at the opening of the second World Emerald Symposium, which will be held in Bogotá until this Tuesday.
"We want to take advantage of the quality and beauty of Colombian gems and position them in the international market," said Edwin Molina, president of the Colombian Emerald Producers Association (Aprecol), during the installation of the event.
Although Colombia is emerging as one of the countries with the best production of 'green gems' in the world, the National Federation of Emeralds (Fedesmeraldas) assured that the first semester of 2018 was "a period of contrasts for the industry."
In the first six months of the year, the value of the gemstone grew 4% but exports fell 6% to add 73 million dollars, 4.4 million less than in the same period last year.
"The emerald business is still growing, representing about 150 million dollars a year. This amount is very representative in the international market because the Colombian gem is the one with the highest value and the most desired in the world ", stated the president of Fedesmeraldas, Óscar Baquero.
Colombia as a leading country in emerald mining production in a new industry that promotes good practices for the extraction, production and commercialization of colored stones. As the president of the World Jewelry Confederation (CIBJO) said, Gaetano Cavalieri, "the country and its mining have changed due to the peace process that it experienced, so when you think of emeralds you think of Colombia, the two are very linked ".
The Executive Director of the CDTEC specialized gem laboratory in Colombia, Gabriel Angarita, said that "the Colombian emerald is highly sought after, not for what it has but rather for what it does not have."
Delegates from 25 countries that have to do with the world of emeralds participated in the symposium, especially from producing nations such as Afghanistan, Brazil, Ethiopia, Madagascar, Pakistan, Russia and Zambia, which is the world's largest producer.