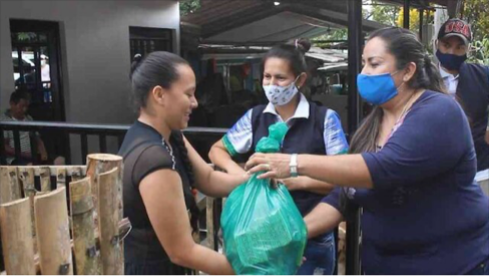 The Colonial Gemstones company, dedicated to the sale of emeralds in Australia, from a distance has supported at least 100 families in the emerald capital of Colombia, who have been affected by the covid-19 pandemic in recent months.
The coronavirus pandemic in Colombia is advancing rapidly and has managed to significantly affect the national population in social, economic and labor aspects, among others. According to the most recent report from the Ministry of Health, covid-19 has left 24,104 positive cases, 803 deaths and 6,111 recovered.
Muzo, the emerald capital of the country, has been one of the municipalities most affected by the pandemic mainly in economic terms. The mines were closed, the activities of the industry were interrupted due to the quarantine and hundreds of miners were left without receiving income in recent months to support their families and meet their basic needs.
Despite the fact that these workers have received some aid and that the Boyacá municipality has the advantage of not registering any positive case of coronavirus, most families have not been able to obtain aid to face the difficult situation they are going through.
In the midst of the crisis, several Colombians have shown solidarity with their compatriots, especially those who are abroad. For this reason, the Australian company Colonial Gemstones, dedicated to exporting emeralds in Australia, announced that it will join forces and send more than 100 aid packages to workers in this area of the country.
Mauro Carvajal, founder of the company, 13 years ago left his country and today he is positioning Colombian emeralds as one of the best gemstones at the level of diamonds and pearls in Australia. Now, it will carry out the initiative to help at least 100 mining families in the emerald sector.
" I am moved by the situation my people go through. However, I believe that distances cannot be an impediment for Colombians from any part of the planet to reach out to those who need it most, especially those workers who, thanks to their work, have made us shine in other parts of the world " Carvajal shared.
It is expected that the packages and economic aid will be delivered by a delegation of four representatives of Colonial Gemstones in Colombia, previously authorized by the Government of Boyacá and the Mayor's Office of Muzo.
For their part, the Colombian Association of Emerald Exporters (ACODES) assures that it will accompany this type of initiatives promoted by the private sector, giving logistical support in humanitarian aid events such as those promoted by the Colombians and his company.
According to the National Federation of Emeralds (Fedesmeraldas), Colombia, which is recognized in the market for the quality of its precious stones , exported emeralds for more than $142 million dollars, surpassing Brazil and Zambia, its main competitors.