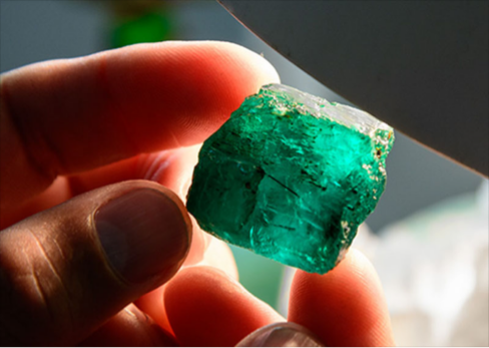 Brazilian mining company takes the lead in mining and emerald cutting.
Brazil has contributed to the world of colorful and precious gems with one of the most coveted stones in the international market. Desired, national emeralds are continually sought after by collectors and traders eager for their beauty.
Belmont Mine, which celebrates its 40th year, is one of the most sophisticated mines in the world, taking the lead in the mining and cutting sector. The company's main markets are the USA, Europe, Asia and Brazil itself. One of the differentials that attracts international markets is that the emeralds there are free of conflicts, which represents a new challenge for the gemstone trade.
Brazilian emeralds are known for their attractive color, which ranges from subtle to deep brilliant green. A wide range of sizes, as well as exceptional brilliance, also attracts investors and lovers of colorful gems. The high quality stones are extracted from the Itabira / Nova Era belt, in Minas Gerais. Itabira used to produce smallersized emeralds, but with recent discoveries, it is gradually gaining popularity for first-class gemstones that can rival those produced in Colombia – Another major producer of the stone.
With the depletion of several national mines, high quality emeralds became even rarer, as explained by the company's director in Brazil, Marcelo Ribeiro. And according to him, Belmont will be able to continue mining from Itabira for the next 40 years, as a result of previous geological explorations.
The director guarantees that there is a growing trend of customers who buy emeralds as a form of investment, since prices for emeralds have more than doubled in the last 10 years. Another driver of growth is a strong desire by brands and jewelry designers to use emeralds in combination with diamonds. "It is a precious stone that adds value and mystifying beauty to a piece of jewelry", evaluates Ribeiro.
He also cited a growing opportunity in China's colored gemstone market. The affinity of buyers with this gem increases the demand for Brazilian emeralds – the real "jewels" of the world jewelery industry.